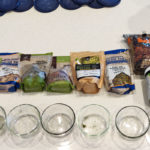 Print Recipe
The ULTIMATE Healthy Protein Shake Recipe
This protein shake has been carefully crafted and refined over several years and is pure perfection! It includes plant based protein and superfoods galore.
Ingredients
16

oz

Unsweetened Almond Milk

4

tbsp

Vega Protein & Greens - Vanilla Flavor

1

Banana

frozen

1

cup

Mixed Berries

frozen

1

tbsp

Hemp Seeds

1

tbsp

Pumpkin Seeds

1

tbsp

Sunflower Seeds

2

Brazil Nuts

1

tsp

Matcha Green Tea Powder

1

tsp

Mushroom Blend Powder

1

tsp

Wheatgrass Juice Powder

1

tsp

Barley Grass Juice Powder

1

tsp

Aloe Vera Concentrate

1

tsp

Glutamine Powder
Instructions
Add all ingredients to a powerful blender and blend for 60-90 seconds, alternating between low and high speeds. Blending is complete when you can no longer here the seeds and frozen fruit breaking apart.
Notes
Links to items used in this recipe:
Helpful Time Saving Tip!
You can save TONS of time by "meal prepping" this protein shake in advance! Combine all of the dry ingredients in a container (Pyrex glass containers in the 2cup size work great! A baggie would work as well).
When it comes time to make the protein shake, simply add the vanilla milk, the frozen banana, the frozen mixed berries, and the aloe vera concentrate to a blender jar. Then add your pre-mixed dry ingredients, and blend. You can make this very powerful smoothie in less than a minute by preparing in advance in this way!